IDOC is excited to announce the first benchmark report for our new Books & Benchmark; Financial Statement Benchmarks are live. With over 30 practices connected to the database, we're now able to run benchmarks. Let us share a couple of aspects of how we do benchmarks that we think are uniquely helpful to our members.
Histograms, not percentages
Numbers matter, but visualization is one of the key ways we take data and turn it into information.
For example, a benchmark like non-OD Payroll as a percent of collected revenue. This practice is spending 16% of revenues.
We could note that 16% is in the bottom 20% of the data set, but we believe it's more helpful to see what the distribution looks like and where a given practice fits. How high are the highest practices? How wide is the distribution?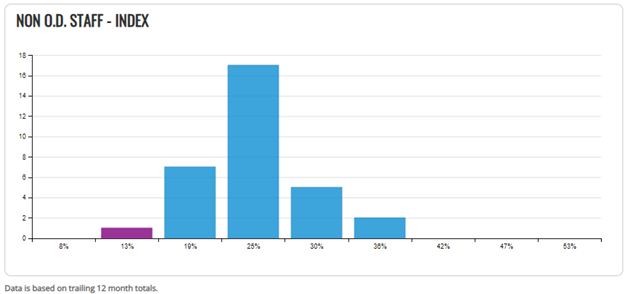 A focus on King Cash
Profitability has a high impact on cash reserves and cash flow, but profitability and cash flow are NOT the same thing. We aim to help owners know how much cash to keep in the practice and understand the true variance of cash.
By setting a cash reserve target at the average monthly expenses from the prior six months, excluding owner compensation and profits, we can help owners assess whether they need to beef up their checking accounts OR (more likely) take a distribution. First, we'll help owners see the movement in practice cash over the prior 12 months.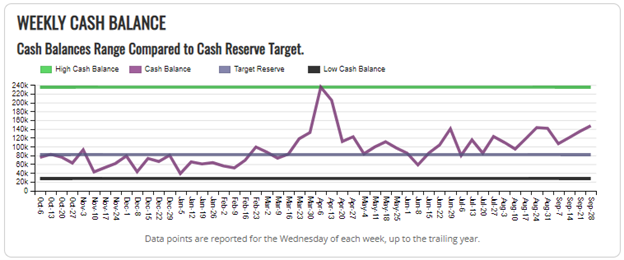 Then, we'll show owners how much other practices keep in their checking accounts relative to the cash reserve target we recommend. Interestingly, the average practice in September 2022 has around double the amount of cash we recommend. It may not be surprising that practices are being conservative after the COVID shutdowns. But in an 8% inflation environment, we don't recommend sitting on a ton of cash. Better to get it out of the practice and put it to work.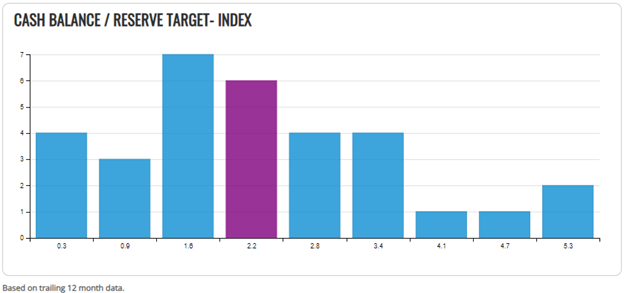 Complimentary benchmarks for greater context
Very few metrics operate completely independently of other metrics. IDOC Books & Benchmarks groups inter-related metrics to give you a better sense of that interplay. For example, Practice Net (sometimes called Optometric Net) is the combination of OD pay and EBITDA (Earnings Before Interest, Tax, Depreciation & Amortization).
Since owner pay is all over the map (owners, how did YOU decide how much to take as salary?), it's interesting to look at EBITDA, but the metric that creates true apples-to-apples comparisons is Practice Net.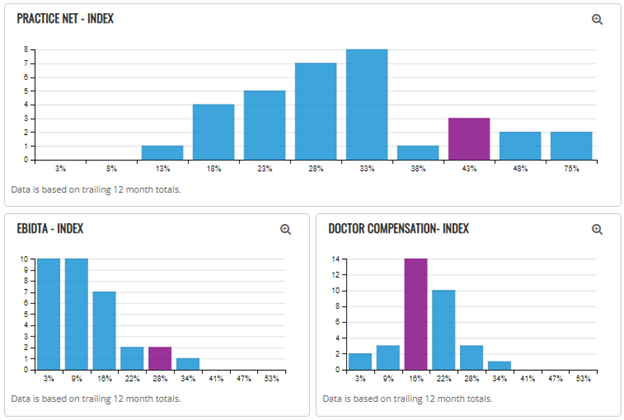 12 Months Takes the Noise Out of Trendspotting
The first time we checked our metrics, the benchmarks were all over the place. We've run benchmarks on over 900 practices; we know what they ought to look like. But our first run was… wrong. Then we figured out the problem: we were looking at a single month of data.
Because of the seasonality of revenues and the timing of bills relative to income coming in, financial results are going to have high volatility from month to month. Revenues, especially, will swing wildly.
By using a trailing 12 months (or rolling 12 months), we can smooth for seasonality and noise. What's more meaningful: seeing that your September 2022 revenues were 20% higher than September 2021 or knowing that the 12 months ending September 2022 were $1.05MM compared to $1.00MM in the 12 months ending August 2022? We believe it is the latter, showing a smoothed annual growth rate of 5% means more than a single month's result.

Just the Beginning
This is just the first dashboard for IDOC Books & Benchmarks. And these metrics will only grow more meaningful as we get all 80 practices that are currently enrolled caught up and connected to the benchmark engine and continue to grow our client base from here.
Still to come:
Non-OD staff benchmarks, including reporting on wages by role, productivity ratios, and tenure guidance
OD benchmarks
Space benchmarks
Marketing benchmarks
Cost of Goods benchmarks
Gold In, Gold Out
One final advantage our benchmarks enjoy: they are based on financials produced by a team of professional bookkeepers. Because IDOC controls the financial statements, we know that these benchmarks reflect reality.
Beyond understanding your metrics, a clean set of books will give you peace of mind in KNOWING how your practice is performing and make tax planning significantly easier.
Want to get a better understanding of your practice's performance? Contact IDOC to get signed up for IDOC Books & Benchmarks today!