Cost of Goods is the highest expense category for many – if not most – independent practices. And most owners feel like they're spending too much or just don't know – how does my Cost of Goods (COGS) compare to other practices?
I've heard practice management lecturers say that every practice's Cost of Goods ought to be less than 25% of gross collected revenues. Which is true for some – but certainly not all – practices. Instead of telling you what your practice SHOULD look like, here are several thoughts for how to evaluate Cost of Goods, and some ideas of how to lower them if COGS are high.
The Big Picture
Even though we often talk of 7 Key Expense Areas, we can sum those up in three broader categories:
Variable Costs – costs that go up and down based on how busy you are – COGs and non-OD Staff.
Fixed Costs – what you have to pay to open your doors, regardless of patient volume
Practice Net – which we'll define as all the pay and benefits available to all the doctors in the practice.
For a typical practice, these three broader categories will be distributed as follows: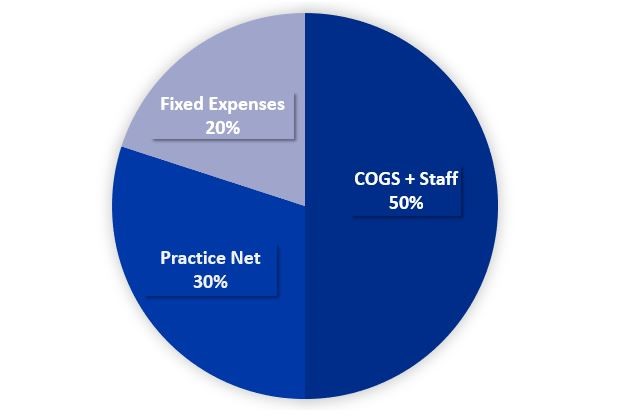 You really can't evaluate Cost of Goods without also considering staff. For instance, here's how Cost of Goods and non-OD staff typically break down in several 'styles' of practices (assume +/- 3% on each percentage):
Traditional, retail-heavy practice: 30% COGS / 18% non-OD Staff
Medically oriented practice: 21% COGS / 27% non-OD Staff
Medicaid / all-medical practice: 15% COGS / 33% non-OD Staff
One key implication of this is that if your COGS / non-OD Staff percentage is high, the issue might not be Cost of Goods at all. Your staff costs may be the real drag on profitability.
But assuming your Cost of Goods is out of line, here are five things you can do to help lower it:
Schedule an account review with IDOC. Getting better discounts isn't usually the issue, but this would be the very lowest-hanging fruit to look for. We're constantly negotiating, so make sure you're getting the most out of us!
Review your markups and professional fees. Remember, Cost of Goods is a percentage of total revenues. Usually, it's the revenue side of the ledger that's at issue. Raise your fees regularly!
Double check your inventory. Sometimes, the issue is simply that a practice is buying more frames or contact lenses than it is selling to its patients. Be sure you have processes and protocols for when you bring in new frame lines or buy inventories of contact lenses.
Review your receivables. Also, because Cost of Goods is a percentage of collected gross revenue, check your A/R aging report.
Add services to offset costs. For practices that sell more contacts than glasses, it becomes even more important to make sure your fitting fees are appropriate. But also look at dry eye or other specialties that can offset your lower-margin contact lens sales.
Want help evaluating your practice? Your IDOC consulting team is here to help. Don't hesitate to email me at nhayes@idoc.net or set up a time to talk.